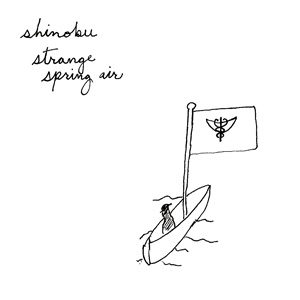 I had forgotten how awesome this album was until the last track, Moustache King, came up on shuffle. Just a feel-good pop-punk album, Shinobu is compared on last.fm to "the Weakerthans, New Order, The Pixies, Pavement and a few others." They released Strange Spring Air this past January on
Quote Unquote
, who are seriously like my favorite label ever because they release lots of good music for free.
In other news, this past Tuesday I got to check out a few bands I hadn't heard of before at a show at the Whitney House in Hartford. CT locals Swear Jar and Dead Uncles opened, and they both played great sets. I bought the Dead Uncles new split with Dylan Bredeau, but have yet to listen to the whole thing through because it's on cassette. If you haven't heard of Dead Uncles before, you should definitely check them out. Some top-quality rougher sounding pop-punk, their first full-length/CDR, the Dead Uncles Is Ruining My Life can be found
here
.
After that the Sidekicks played a pretty good set, but the band that really impressed me was the Menzingers, out of Pennsylvania. I particularly enjoyed their cover of the Clash's Straight to Hell. I wanted to buy their most recent full-length, but unfortunately didn't have the cash, and their lead singer actually told me to just download it. Solid dude in my book.
Edit
: I'm listening to that Menzingers album now, and I can see these guys getting big. Fans of the Lawrence Arms and Against Me! should dig this.